We have worked with online learning platform LearnLet to provide them with AR tools their students can use to sharpen their skills. In particular, we have developed a few mobile-based AR apps that teach basic concepts related to tourism and hospitality. Here's a couple of examples.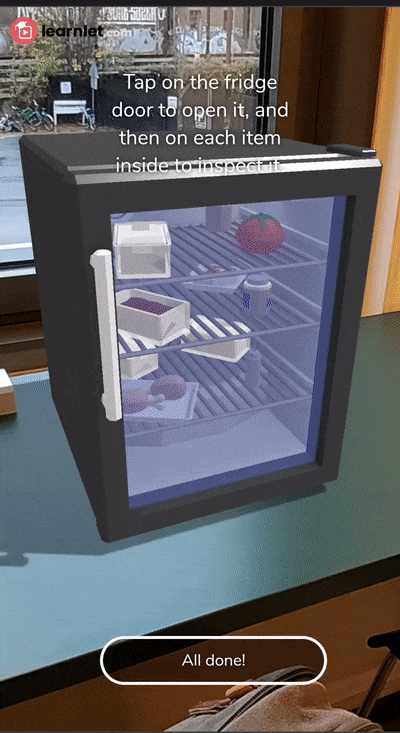 We developed an AR-based learning tool to go along with the course that LearnLet offers when it comes to food safety in professional kitchens. In this interactive experience, users have to explore a small 3D fridge to find potential food safety problems, such as unlabeled containers, expired products, abnormal refrigeration temperatures and more. After completing the examination, they get feedback, letting them know which problems they overlooked and if they got any false positives.
This kind of interactive experience presents information and feedback in an eye-catching and memorable way, while also offering a better sense of the spatial considerations involved in food safety like, for example, where in a fridge raw meat products should be placed.
The "Wine Basics" AR interactive experience is the companion app to the course that LearnLet offers to teach service industry employees about how to properly select and serve wine. This experience has three different phases:
First, players are presented a number of different dishes, for which they have to select the correct pairing from a wine list. Afterwards, they need to identify the correct type of wine glass for some of the pairings they have chosen before. Finally, they need to serve wine (by tilting their device) to the correct fill level in the glass.
After all of those steps are completed, detailed feedback is provided, and a final total score is given, reflecting how well they have performed their tasks.